Frontend Development Services
AngularJS Development
Known for its excellent qualities, AngularJS is flexible, fully scalable and an extremely simple web development platform. Trusted and open-source, AngularJS framework crafts rich web applications that predominate the web world and meet intricate business goals.
Read More
ReactJS Development
ReactJS framework is among the elite, fastest-growing front-end JavaScript technologies today in the world. The framework works seamlessly in favour of your business! ReactJS is powered by Facebook communities of other similar developers.
Read More
What is the role of a Front-End Developer?
A frontend developer is a Web developer who codes a website's front end. While web design is the way a website appears, the development at the front end is how the website actually executes the design. Frontend developer takes website design files and converts them to HTML, JavaScript (JS) and/or CSS code - the frontend development core elements. 
Everything that a user sees clicks, or uses to enter or retrieve information on a website is done by a front end developer.
Why you should go with Frontend development services?
Front end development is one of the crucial concepts for web site development. You should go with Frontend development services:
In order to make the users interact with the web applications or web site
Businesses redefine their identity and branding with the help of frontend development
Front end development improves the outcome of the design and makes it more enticing and appealing
Front end development helps businesses redefine their branding and corporate identity and pumps blood into the thriving World Wide Web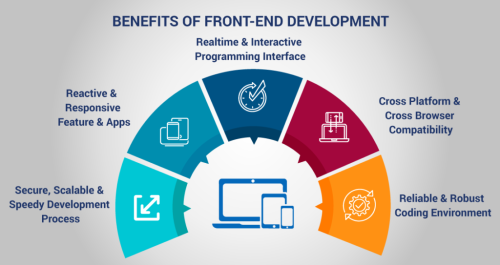 Advantages of Front-End Development: 
The coding done in the front-end framework is completely secure. You are relieved from the errors in the functioning of your site on any browser. 
The developer can fearfully observe the modifications in the browser. The developer has no fear of losing the application status. 
The faster development of elements will take place by using certain modern frameworks. 
The frameworks used by the frontend developers make a powerful website. The outcome of the website is achieved with extraordinary functionalities.
What do our Expert Frontend Developers offer?
Our frontend developers keep an eagle's eye on your project so that they cover all the aspects in the right way. They always use the latest web frontend development frameworks and have experience in developing rich internet applications. Our Frontend JavaScript developers are experienced with high-quality coding standards and in order to avoid any kind of mistake, our expert performs testing at each stage. Our frontend developers understand the various metrics and also web performance which determines success online. 
Get in touch with us to hire Expert Frontend Developers in India!